Hello lovelies! Today I decided to share some of my decor finds and really pretty baby shower ideas only because 1) I'm obviously thinking about it, and 2) it's never too early to prepare and start researching these things! So I'm going to break it up into three sections to feel a bit on top of it and so that I have something to reference later on when I start truly planning mine and bringing it all together (which I'll obviously be sharing with y'all too once that happens)!

NOTE: I'm having a baby girl, and although I'm super anti all those bright pink vs blue heteronormative themes, I'm feeling blush (I love the color in general) along with rustic tones, metallics and greenery.

1. The Venue
Everyone knows what a sucker I am for natural light. I need it all the time because it's the BEST for photo ops. Even for my wedding I made sure there was a way we could get natural light (no matter what, rain or shine) so we opted for a venue with a glass ceiling/dome... aaaand I'll probably want a similar vibe for my baby shower (I'm fine with natural light via tall windows or something, nothing that crazy). Here are a few examples (not in Atlanta, but we'll see if I opt for our backyard or elsewhere depending on the weather):
Source: Pinterest, BuffyDekmarBlog, StyleMePretty
2. The Invites
Yes I'm of Indian origin, and no I didn't realize how overwhelming and confusing it is to come up with the guest list for the shower. Wanting it to be intimate without forgetting any loved ones, while also not putting pressure on attendance is a really fine line to balance. I am still in the process, but i'm a digital gal and paperless post is gonna be my invite of choice when it comes to having people save the date (I know this isn't necessary but it really is when you have a lot of people considering coming from out of town) and the actual invites themselves. How beautiful are these custom Paperless Post designs for baby showers?! I can't wait to get started on mine.
Source: PaperlessPost
3. The Decor
While browsing Pinterest, I've seen so many cute decor ideas that I simply CANNOT choose, but know that I will have to limit myself because this is a baby shower, obv, and not a full-blown wedding shower and I need to chill out a bit. But I can't help but get excited at all these gorgeous neutral / blush pink / white themed ideas that are oh-so rustic and pretty!
Source: GingerRay
4. Food & Drink
I'm such a fan of finger foods and believe it or not, I don't have the largest sweet tooth (yikes!), so I'll probably get some friends to recommend the best types of delicacies for pastries and dessert type options. But when it comes to savory, I am sooo into light snacks and refreshing drinks (will likely include some boozy options, too, because hey -- ima let others enjoy and have a good time during the shower even if I can't indulge)! How yummy do these look?
Source: Mabel & Moxie, MonCheriBridals
5. Entertainment
Just cause I'm havin' a baby doesn't mean I can't bust a move or two, or at least have some fun music playing in the background and a few games to keep people entertained. I saw some cute printables (see left) that spurred some really fun ideas for guests to partake in. And of course, my favorite idea: having people decorate onesies! Such a fun personal touch that I can keep with my forever when I dress my baby girl.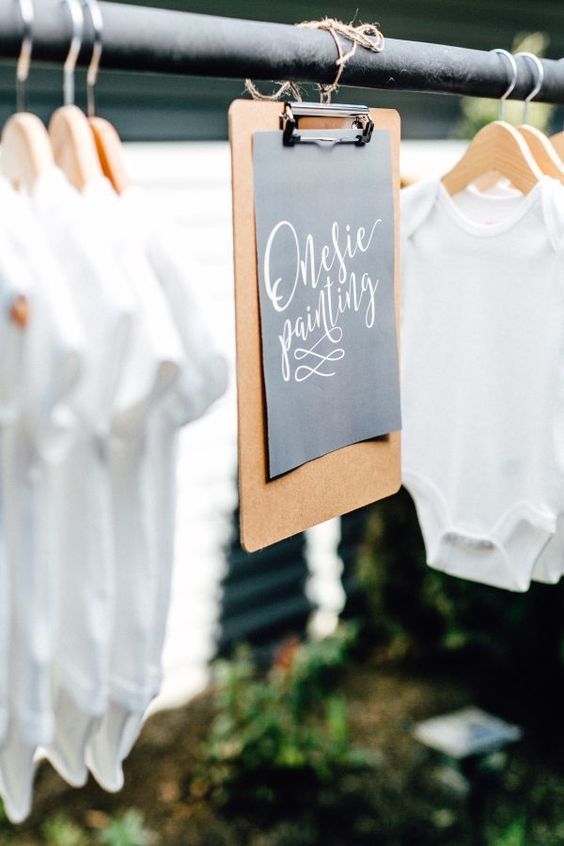 Source: PrettyCollected, StyleMePretty
Are there any games you've enjoyed while attending or hosting your baby shower? Any other decor ideas you've seen or are dying to share? Sound off in the comments. I could totally use ideas and hear from you about your experiences. Momma to momma-to-be advice is always fun! Thanks for reading.
XO
Jen